Beautify floors and walls with these tile offerings that include fabric effects, wood looks, and faux natural stone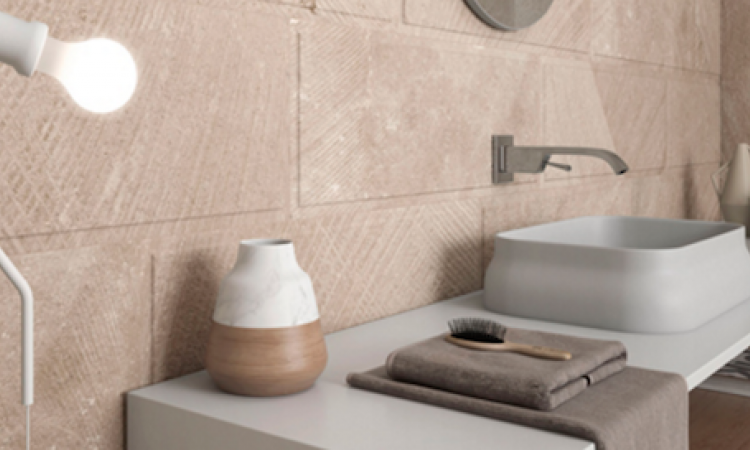 Photo: courtesy Argenta Ceramica
A feature story on tile looked at the cause and solution for matte finish floor tiles that lost their crisp, clean look after grouting. Here's a crisp, clean look at five more tile options:
Equipe Cerámicas' Brick Collection of porcelain tile is designed to provide multiple graphic patterns and reliefs in formats with size variations that reflect traditional handmade brick. Available in seven colors and two sizes: 10 cm by 20 cm, and 6 cm by 24.6 cm.
Photo: courtesy Equipe Ceramicas
A modern surface in ceramic tile with a fabric effect, the Canvas series from Sichenia is inspired by ancient tapestries and noble furnishing fabrics, offering a stylish, elegant aesthetic. Tiles offer high resistance to stains, are easy to clean, and are fire-resistant. Available in five colors: Rope, Tobacco, Avio, Silver, and Pearl; and three sizes: 60 cm by 60 cm, 30 cm by 60 cm, and 10 cm by 60 cm.
Photo: courtesy Sichenia
A six-shade porcelain palette of neutral, functional colors that presents a recreation of natural stone, the Tundra collection from Argenta Cerámica is capable of reinterpreting natural materials with precision and without losing their essence. Three paving formats are available: 30 cm by 60 cm, 45 cm by 45 cm, and 60 cm by 60 cm, plus a 20 cm by 50 cm cladding option.
Photo: courtesy Argenta Ceramica
Available in a variety of colors, finishes, and formats to fit a range of design needs, Aparici's Polar collection provides a balance of organic and minimalistic looks with a pure, light finish and mother-of-pearl color that lightens any room.
Photo: courtest Aparici
A good choice for homeowners looking for ways to add a unique touch, the Outland series from Colorker is available in four shades: Winter, Deep, Nature, and Silver and five sizes, as well as six additional specialty pieces, including a mosaic option.
Photo: courtesy Colorker